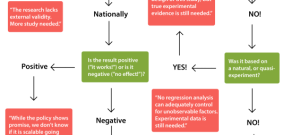 The people from Wonkblog made nice flowchart how to argue with research they don't like. [via wonkblog] Flowcharts lay out the process for solving problems in a logical, step-by-step manner. According to this flowchart, the wizard Gandalf the Grey uses perfectly logical reasoning, at least according to the folks at the... Very soon a lot of people will be glóin to the Hobbit: An Unexpected Journey. However, there are 13 dwarves and many will not have seen them bifur. I don't want people balin on...