20 (Slightly) Different 2048 Versions
2048 is a small (adictive) online game by Gabriele Cirulli. In this game you have 4×4 grid in which the numbers 2 and 4 randomly spawn. You need to move the numbers around with the arrow key. When two tiles with the same number touch, they merge into one! As the title of the game already suggests you need to get a 2048 tile.
Since it release about two weeks ago, many edited versions came out. This post lists 20 different versions of the 2048 game.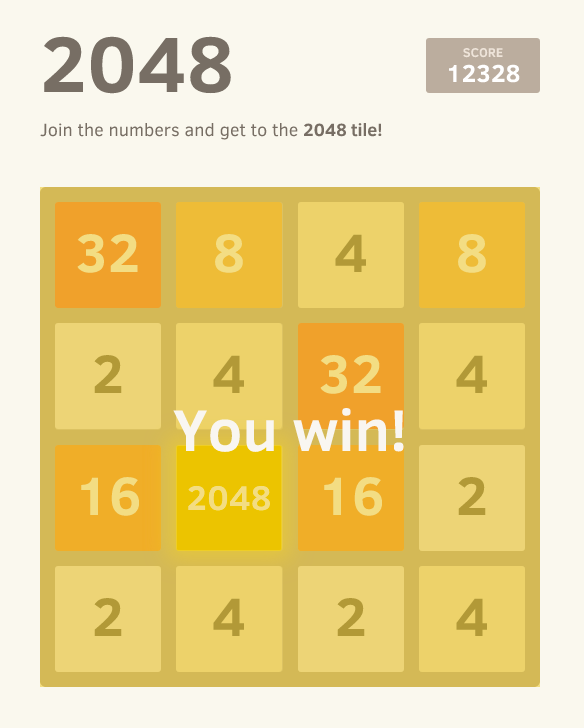 The Original
2048: The original
The original version of 2048 is not really the original, since it is based on two other games; the iOs game 1024 by Veewo Studio and Threes by Asher Vollmer. The code for 2048 was released on Github, which is one of the reasons for all the different versions.
2048: the AI
If you already played 2048, you might have noticed it is not as easy as it looks. Luckily, Matt Overlan integrated a AI solver that shows you how it is done.
2048: Dropbox
Saving progress or keeping track of your personal high scores between sessions is not included in the orignal. This Dropbox version solves that problem.
Multiplayer
2048: multiplayer
Emil Stolarsky added multiplayer to 2048. In his version you try to beat the score of a random opponent.
HN plays 2048
Last month we featured Twitch plays Pokemon. In this version by Grant Timmerman, works the same: anybody who is online can move your pieces!
Even harder
2048: 3D
If 2D is just to simple for you, you can play the 3D version by Michal Opler.
2048: 4D
3D was still no challenge for Huon Wilson, who added yet another dimension.
2048: Hard
In the original 2048, new tiles are placed on a random position. In Zsolt Sz. Sztupak's version an AI will place the new tile in an annoying place.
2048: Hard Topsy-turvy
Tom Hargreaves created the hard version with the roles reversed. So it will let you place the new tiles while the AI plays 2048.
-512
In this version by hgentry you get both positive and negative numbers and you will need to get to -512.
16384 Hexagon
The square grid is replaced by a hexagon, the square tiles by circles and it has 4 extra directions. Oh, and Rudradev Basak set the goal at 16384.
Fun
2048: Numberwang
A 2048 variant based on the popular, long-running maths quiz show Numberwang from the sketch show 'That Mitchell and Webb Look'.
2048: Flappy Bird
The two most popular casual games of 2014 (and also the most cloned games of 2014) combined into one by hcz. There is also a logarithmic flappy 2048 by ajf, which even better resembles Flappy Bird.
2048: Tetris
The goal is the same, only Prateek Agarwal changed the gameplay to Tetris.
1597
The power of 2 might be a bit boring after a while, but the Fibonacci version can spice things up.
2048: Finals
You really should be revising for your finals. Gagik Movsisyan gives you an easy win, so you can get back to your books.
Themes
2048: terminal
You work in IT and you need to keep the illusion of working. 2048 in you web browser is far to obvious, so bfontaine created 2048 for your terminal.
2048: LHC aka 2048: for physicist
Collide these elementary particles and generate the Higgs Boson! Forked by Milrivel.
2048: Doctor Who
If you are a Doctor Who like me, you might prefer this variant in which you need to merge The Doctor's in chronological order.
2048: Pokémon
Or if Pokémon are more your thing, you can try Allyson Schrader's version.
2048: Meta Edition
If you still don't know after this list which version you like best. This meta edition, containing different 2048 versions, might be just your thing.
This list does not contain all the different 2048 versions. If you still want more you can find a more complete list here.